The best tips for a holiday or weekend away with the dog

Time to get away from daily life and come and enjoy your holiday with family, friends, and the family dog in the natural areas of Harderwijk and Ermelo. You can find dog-friendly beaches, off-leash areas, and beautiful cities with beautiful nature reserves where you can walk the dog endlessly. At Bungalow Park Het Verscholen Dorp you can enjoy a wonderful holiday with your dog, pets are welcome in most bungalows and chalets. Keep on reading for the best tips or check out our website!

Tip #1: Playing, swimming, and chilling out at the Erkemederstrand recreation area
Playing, swimming, and chilling out at the beach. Dogs are year-round more than welcome at At this special dog beach; Erkemederstrand in Zeewolde. Enjoy the 1.5-kilometer-long dog beach with your four-legged friend. Your buddy can roam freely here, play with other dogs or enjoy the sun with you. Dogs can happily splash around in the water or, you can take a refreshing dip together. Is your dog covered in sand, there are special dog showers to rinse off all the sand. After all this roaming around and playing in the water you can enjoy a snack and a drink at the dog-friendly eatery, even your dog has its own dog bar there. 
At Bungalow Park Het Verscholen Dorp you can enjoy a wonderful holiday with your dog.
Tip #2: Enjoy nature with your dog(s)

Do you like heath land and vast areas for a nice walk with your dog? Then opt for a walk across Ermelo's 'Groevenbeekse Heide' (heath land). Dogs are allowed to run off-leash here all year round. Parking is free at the end of the 'Herderlaan'. Be sure to bring some snacks along, because it is a beautiful place for a picnic. Be careful with small dogs (such as dachshunds, for example), because there are many rabbits on the heath. If a small dog follows the rabbit down a rabbit hole, which is sometimes up to 200 meters long, there is a chance that it will get lost or stuck. Another off-leash area is the large 'Ermelosche Heide' (heath land), a vast area where you can take beautiful long-distance walks. Keep in mind that dogs must be on-leash between 8 am and 4 pm because of the sheep herd. A beautiful area for endless walks, all less than 10 minutes away from Bungalow Park, Het Verscholen Dorp. Have fun!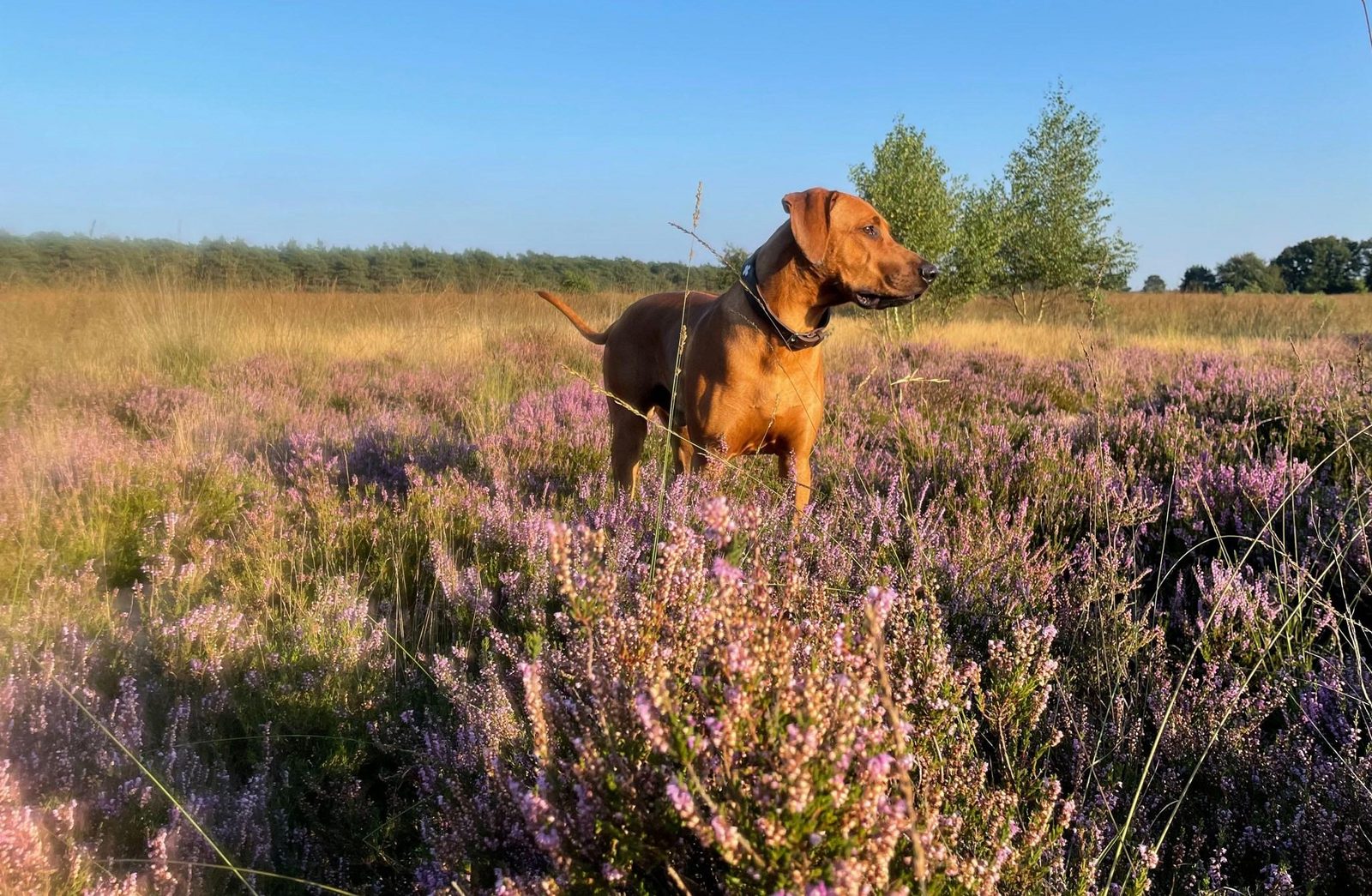 Tip #3: Soaking up culture in the Dutch Open Air Museum in Arnhem
Enjoy a walk through the beautifully landscaped park, where history comes to life, and you travel back in time. Come along to Holland of the past, full of beautiful stories, nostalgic crafts, and cozy old Dutch games. Your dog is very welcome in the museum park and even in the restaurants, provided it is kept on a leash of course 😉. Walking, exploring the old buildings from outside and in ... a cultural destination for dog and owner(s). 
Tip #4: Out and about with your furry friend? Rent a bike with a dog bike trailer!
If you are going on holiday with your dog, then, of course, you want to go out and about. The area surrounding Bungalow Park Het Verscholen Dorp is the ideal environment for a bike ride. Of course, you want to take the dog with you! Ask us about the possibility of renting a bicycle with a dog trailer. With this, you can safely transport your four-legged friend with a weight of up to 35 kg on the wide and paved cycle paths around Harderwijk and Ermelo. The dog cart is equipped with sufficient ventilation and has hooks to attach the leash.  Ask us about the possibility of renting a bike with a dog trailer. Have fun!
Tip #5: Walking route especially for dogs
Tranquility, space, shifting sand, beautiful forests, and vast heaths. You will find all this at the dog forest 't Leesten . A walk at the nature reserve the 'Veluwe' is enjoyable in its purest form for you and your dog. Would you like your dog to be able to move freely while walking? At this 3.1 km long route through the beautiful forest of Uchgelen, your dog can run and roam around freely. From the starting point, you follow the green route/ signs. This dog forest is truly unique in the Netherlands! The forest is completely fenced, and your dog can run around freely all year round! Amazing, right?!
Tip #6: A day at DierenPark Amersfoort? Bring your dog along 🐾
What's more fun than admiring wild animals with your dog? This is possible in 'DierenPark Amersfoort'. Your four-legged friend is very welcome here.
Lions, tigers, meerkats, and penguins: 'DierenPark Amersfoort' is a great outing for the whole family! The animal zoo has been declared the best zoo for kids in the Netherlands, and there is plenty to do. For real dinosaur fans, there is a Dinosaur Park. In this forest, you take a journey through time and see seventy life-sized dinosaurs. Your dog is very welcome here, provided he is on a leash. PS, You don't have to buy a separate ticket for your dog. 
Tip #7: Get a taste of Dutch history and visit Castle Staverden

When you come across a castle during your walk, it always has something special, and unique due to its location and architectural style. You can feel the history of this amazing building. You can take a beautiful walk around Staverden. You pass through a varied landscape of forests with deciduous and coniferous trees, hedgerows, streams, and flowery fields. Did you know that Staverden is the smallest city in the Netherlands? Between all the greenery there are also 18 characteristic farms, the white castle, the villa, and another 30 other special homes and buildings! Put on your hiking boots and explore. Don't forget your camera, because the views are phenomenal. Your dog is welcome on a leash at the Staverden estate. After your walk, you can settle down at Brasserie Staverden. Your dog is welcome!
Tip #8: Eating pancakes at a typically Dutch pancake house 

Going out for dinner is surprisingly fun at the typically Dutch pancake house De Boswachter in Vierhouten. At this restaurant, on the edge of the beautiful forests around Vierhouten and Elspeet, there is a lot to discover and to walk. From the Boswachter you can also go on an adventure in the woods, and discover Vierhouten on foot. After your walk, enjoy a real 'Veluwe' pancake in this cozy restaurant. Bring your dog along! 
Tip #9: Adventure dog (GPS) tracking along the Hierdense Beek
The GPS track is a unique activity that you can do completely independently with your dog. Very convenient, of course, because you can go when it suits you, and you can take along whoever you like. The GPS tour is a fun treasure hunt of 6 kilometers along the Hierdense Beek and the Beekhuizerzand on the Veluwe. During this tour, you and your dog can do puzzles, sniff, and other fun games, while you search for the right way. This unique 'GPS tracker' makes walking your dog even more fun! Have you become enthusiastic? Then book the GPS-track at Bosrestaurant Het Draakje in Hierden! The only thing you need is an Android phone or someone who makes this available. Don't forget to bring some dog snacks!
Tip #10: On the SUP with your dog
Suppen (Standing Up Paddling) is super fun to do. You move across the water by paddling and standing up on a board. It is an enormously popular water sport, and with good reason. You can completely relax while paddling, but at the same time, you are busy with a form of surfing. Can this activity be more fun? Yes, it can! You can also do this fantastic activity with your dog on the Wolderwijd or the Veluwemeer lakes! The DogSUP. SUP together with your dog and experience double water fun. Step by step, it will be explained how you can SUP together as safely and pleasant as possible during a private lesson for 1 or 2 persons. For more information, visit the website Supandgo, water fun is guaranteed!